Injury Rehabilitation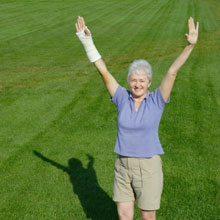 The Fit Happens trainers are injury management and rehabilitation specialists. We have systematically surrounded our team with the very best people in all areas of health.
From Sports Medicine Physicians, Surgeons, Physiotherapist to Massage Therapists. With experience in injury rehabilitation for people of all ages, shapes and sizes we have, and continue to conduct contract work for NRMA, Allianz, GIO and Comcare to successfully rehabilitate injury sufferers back to full health be it in the workplace or on the sporting field.
Our trainers work in conjunction with your physician to tailor a rehabilitation exercise program specifically to you. We are dedicated to achieving your objectives as quickly and safely as possible so that your injury limits you only for as long as is absolutely necessary.
We will get you back to the things you love to do as soon as possible.
Whether it is a dislocated ankle, a knee reconstruction or a full hip replacement, we will guide you back to your best in the shortest possible timeframe.