Sport-specific training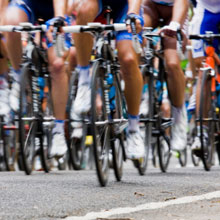 At Fit Happens we have 20 years of experience with some of the top national and international level athletes in their chosen fields. Whatever your sport or activity, we can help you achieve your goals. From the recreational athlete to the professional, we will design a program that has a positive effect on your sporting achievements.
Sports specific training is all about developing physical abilities to improve performance and skills at a particular sport, while understanding the needs of the game. Only once this is understood can an athlete train/practice accordingly in order to meet the sports requirements on game/race day.
The Sports Specific Programming will help improve your strength, flexibility and stamina to maximise your performance in the sport you love. Examples include increasing arm strength for tennis playing or improvements in core stability and power enhancement for better running speed. No matter what your sport of choice, our experienced trainers can analyse the specific skills, movements and energy systems utilised and develop them further with a tailored training plan.
We have and continue to successfully coach athletes of all abilities in the following sports:
Swimming
Running
Triathlon
Soccer
Tennis
Cricket
Bodybuilding
Rugby
Netball